Happy Marvelous (I might change my mind on that one as I take my first step out of bed :P) Monday! Thanks so much to everyone who sent me a message yesterday. I am sure you saw that 2:45 was not what I wanted at the Chicago marathon, but it is a step in the right direction, and I know my time is coming. I will explain more in my recap posts. I have a lot to tell you, it was an incredible few days!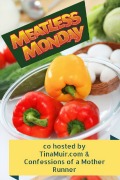 For now, you can enjoy Meatless Monday, please join Confessions of a Mother Runner and I in our weekly linkup!
Over the last year, I have been working on trying to remove processed products from my life as much as possible. I realize when I go out to eat, most places will use many processed items, and I am okay with that, but while I am at home, what I can make from scratch, I will.
My favorite thing to make from home is definitely homemade bread. The smell when it is fresh out of the oven is heavenly, and having a slice with almond butter while it is still warm, is one of my favorite things to enjoy. We are now in a routine of making a loaf every sunday, which lasts about 5 days, and usually do not need sandwiches on the weekend. Making bread is really not as difficult as most people think, although I would definitely recommend using a kitchen aid to mix the dough. If you can do it by hand, then more power to you! Bread making does take some time, but not much effort, which is why a Sunday afternoon is the perfect time to make it.
I have adapted the recipe many times until I found one that was just right for us. I like a seeded loaf, but Steve prefers simple whole wheat, so while I am not working, I have been making this for him. Hopefully you enjoy this bread as much as we do!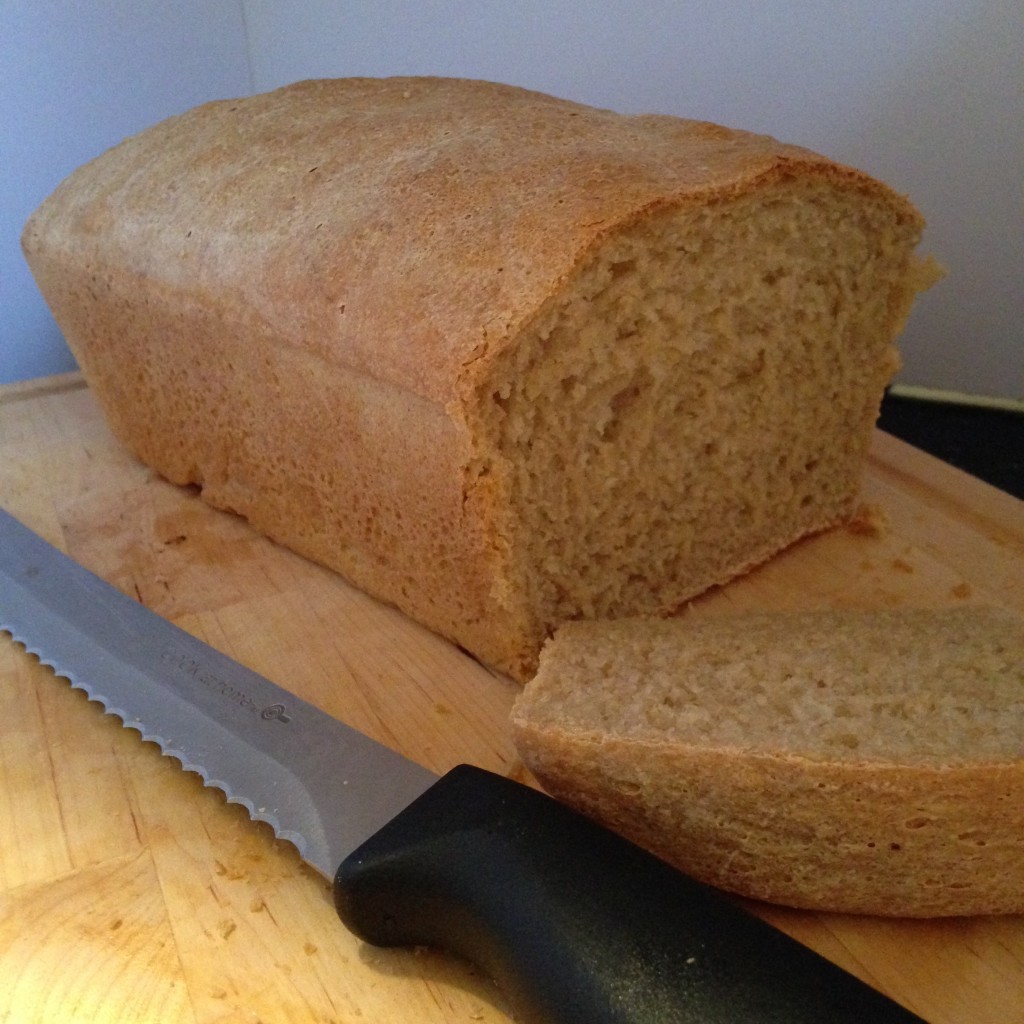 Whole Wheat Bread
Makes 1 large loaf*
Preparation time: 2 hours
Cooking time: 30 minutes
Ingredients
1 1/2 cup warm water (I run the water till it is just a little too warm to wash my hands in)
2 1/4 tsp yeast (or 1 packet)
1 1/2 cups bread flour
1 cup whole wheat flour
1 tbsp honey
1 tbsp butter, melted
1/2 tsp salt
1/2 cup bread flour
2-3 cups whole wheat flour**
Optional 1/4 cup oats, 1/8 cup quinoa, 1/8 cup sunflower seeds
Instructions
Add the yeast, warm water, and honey to the mixing bowl. Stir to combine. The yeast will not completely dissolve, but should be well distributed, and the honey melted into the water.
Add the 1 1/2 cups bread flour, and 1 cup whole wheat flour.Using the bread attachment hook for the mixer, and stir until well combined.
Scrape what you can off the mixing hook, and cover the dough with greased cling film/saran wrap, followed by a kitchen towel/tea towel. Turn on the oven for around 1 minute, until it reaches 110 degrees F (or feels slightly warm), turn off, and place the dough into the oven.
Leave for 30 minutes, until it is bubbly and has doubled in size.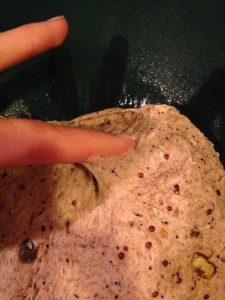 Remove, saving the greased wrap, and place back onto the mixer. Add the melted butter and salt. Stir using the bread hook over a low speed. Add the 1/2 cup bread flour, and 1 cup whole wheat. Once most of it has mixed in, turn the speed up to medium (on my kitchen aid that was a 4-6/10. Add optional ingredients, followed by additional flour until the dough is just peeling itself away from the pan. It will be moving fast, but you will notice it will come away from the edge slightly, leaving an almost clean bowl. Keep the kitchen aid running for a few more minutes. And remove from the pan. It should be very elastic, and will stick to your hands if you do not keep it moving.
Transfer to a large, greased mixing bowl, and cover with the cling wrap and towel. Turn the oven on for another minute, or until warm, turn off, and place back into the oven until doubled in size (around 45 minutes).
Roll the dough out on a floured surface into a long, rectangular shape. It should be less than 1/4 inch thick. Starting at one of the short sides, roll the dough up  on top of itself, so it creates a log.
Place the dough into a greased large loaf pan. Cover with the cling wrap and towel, and place back in the oven for 30 minutes, until risen above the top of the pan.
Boil a cup full of water, and place into the microwave. Without removing the wrap or towel, transfer the loaf to the microwave (NOT TURNING ON!) while the oven heats up to 350 degrees F.
Bake in the oven for 30 minutes, or until internal temperature of 190 degrees has been reached. It will be golden brown. Immediately remove from the pan, and place on a cooling rack. Allow to cool for at least 15 minutes before
cutting (although this will be difficult!).
*Requires large loaf pan
** How much your bread needs changes each time depending on the moisture in the air. Read instructions to see how much to add.
Recipe Adapted from All Recipes
How often do you make homemade bread? What is your favorite food to make from scratch? If you are not joining our linkup today, have you been participating in meatless monday?