I thought I would share with you some of my favorite recipes and food combinations that I have been eating for meals since making these dietary changes.
I think you all think it is much more complex than it actually is. I do like to change recipes all the time. I would say well over half of my cooking is a brand new recipe every time as I like trying new things, but for the most part, I keep it very simple, and it is a random combination of foods thrown together on a plate, but you asked, so here you go:
Creamy Berry Smoothie Bowl
On those hot summer days, these are like a dream come true. They are so thick you can eat them with a spoon, but I put some crunchy foods on top….well, because I love crunch and they are good for you!
Mix 1 cup of your favorite berries with 1/2 avocado, 1 tbsp nut butter/coconut butter, 1/2 cup almond milk, chia seeds. Sprinkle unsweetened, dried coconut and cacao nibs on top (or nuts)
Omelettes
I have a 4 egg omelette after my runs 4-5 times a week. I never used to like eggs, in fact, I avoided them at all costs until a few years ago. I started forcing myself to eat them because I knew how good they were for me, and with these omelette's I have made it to the point where I somewhat enjoy eating them.
I like to mix in whatever vegetables I have on hand; tomatoes, bell peppers, onions, spinach, kale, mushrooms, beets. And if I am lucky enough to have smoked salmon in the house, I add that in there, which I definitely do enjoy eating!
I think almost everyone here knows how to make an omelette, but my dads trick (which makes them beautifully fluffy), is to cook the bottom, and then once the top starts to set, put your omelette under the broiler (with the door open and handle sticking out). It will rise up and brown on top. Best way to cook eggs by far (in my opinion!)
Sweet Potato and Almond Butter
Have you tried sweet potato and almond butter yet? No? Oh my god it is one of my favorite combinations in the WORLD. It is amazing, seriously!
This is my pre race/workout meal. I will eat this about 3 hours before I work out, along with a banana. If I am running very early and do not want to get up at 2am, I will just have some sweet potato chunks on their own. I find I can eat them within an hour of running a workout and be fine.
This is a great pre workout food to eat, and has not caused me any problems. It is also easy as you just wrap the sweet potato in a paper towel, and cook in the microwave until soft (around 8-10 mins for the larger sweet potatoes that I use).
Recovery Bowl
I already talked about this one a lot, but I probably eat this 2-3 times a week. I absolutely love it, and if you have not tried it yet, you need to. I even got my mum hooked on it where she has it a few times a week!
Tuna or Salmon and Avocado
This is one of Steve's favorite lunches, and keeps you very full for a long time, without needing barely any preparation.
Simply mix a can of wild tuna or salmon with a whole (or half) avocado. Sprinkle with some smoked paprika or any other seasoning of your choice. Healthy and delicious.
Loaded Salads with Fish
We have a lot of these. Just throwing everything and anything in there. When we go grocery shopping, it is mostly produce, and so with these we just put whatever we have into a big bowl, and have it with some kind of meat or fish.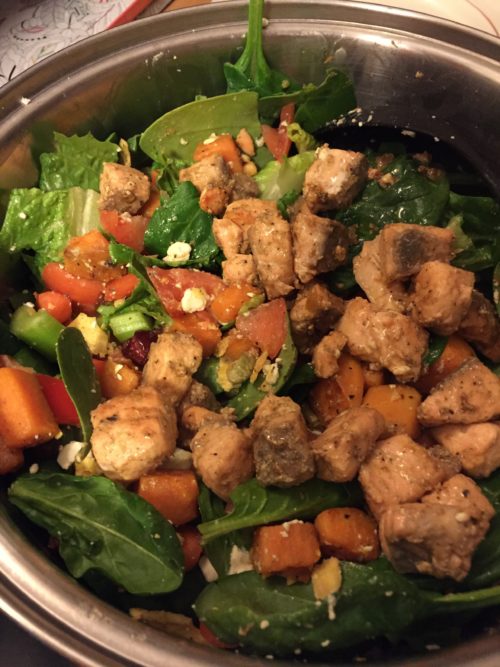 Flatzza Pizza with veggies
I had never heard of Angelic Bakehouse before I found them in Luckys Market, but they were sprouted grains, which Tawnee recommended for any kind of grain products, and we absolutely loved this on our pizza stone. We put lots of veggies on there and bacon (cause when you find a grocery store with good bacon, you have to enjoy it!)
Butternut Squash Taco Shells
We made this last Friday, and it was absolutely wonderful! Came from my Eating Well Made Easy cookbook, and it was simple, easy, and full of nutritious foods. Will definitely be making this one again.
Sizzlefish with Sweet Potato and Almond Butter
This is one of our regulars. I love my sizzlefish, and salmon is our favorite. We often have it with sweet potatoes and almond butter, along with some vegetables. This time I had it with a creamy lemon and dill dressing, but we change it up often.
Sausages, Salad and Mozzarella
Just one example of a throw together meal containing leftovers of different meals. Lucky's market makes all their sausages in house and Steve and I absolutely LOVVVVEEE them!
Cauliflower Crust Pizza with Polenta Fries
I often make cauliflower crust pizzas, and I shared a picture of that a few weeks ago, but I also like to make polenta fries to go with it. This bulks it up a little, without adding traditional fries.
So as you see, I am not like most people who create these meals with three different components that perfectly complement one another. For Steve and I, the priority is getting in good fuel that is going to help me recover, and allow us both to feel good in our daily lives. It is often big batches of food that we eat over the course of a few days in a few different combinations.
Now, for those of you wondering about dessert.
Well, dessert is not healthy…..EVER.
I eat what I like to have for dessert, and I have a dessert every single day, whether it is a few squares of chocolate (bare minimum), or a big froyo dessert, this is the time I allow myself to have whatever the heck I want.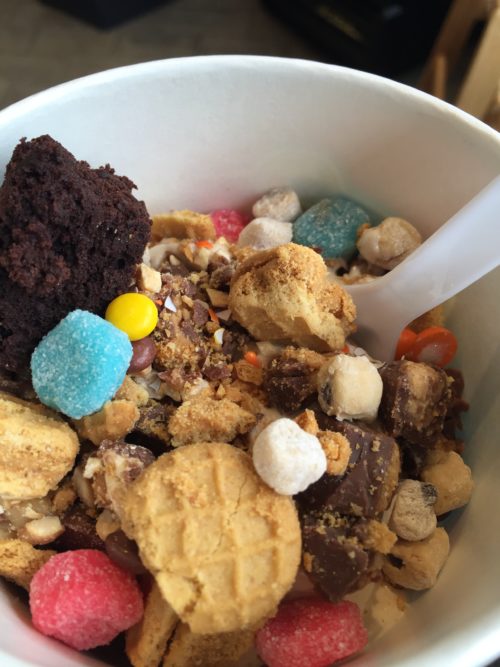 I do enjoy eating the foods I shared with you today, but the dessert aspect of the day is more of an experience for me. I no longer crave the sugary processed junk during the day, but in the evenings, I believe that it is a sacrifice I am willing to take. I enjoy eating those foods, for more than just a taste good reason, so I eat what I want.
That means I do not have any healthy desserts 🙂
Hopefully this gives you a little more of an idea, and you can start to create your own healthy fueling plan.
How do you come up with a dinner plan?