Today I have a special treat for you. Since I was in college, I have always looked up to my guest today. She has dominated the collegiate distance scene for many years; and I loved watching her racing. You know I am all about embracing who you are, (read my Be Brave, Be Strong, Be You post for more on that), and she is a great example of that.
Today my guest is Emily Sisson.
You think I am fast, well Emily recently set the collegiate indoor 5k record with a SMOKIN' 15:12! She has PRs of 8:52 in the 3k, and 32:31 in the 10k (and a 31:57 on the roads).
Whenever I am feeling down about my short, chicken drumstick style legs, or I worry about looking different to other girls I race against, I look to a photo of Emily….okay, that may make me sound a little like a stalker, but it is just what I need to remind myself that I would rather be powerful than fragile…..which I know I would be if I deprived myself of calories. Some runners are naturally very tall and thin, but I am not one of those people!
When other healthy, running friends of mine ask if they need to lose weight, I always send them a picture of Emily.
She is SO strong; literally the poster child for a strong, powerful runner, and I absolutely admire that about her. We are all different, and runners come in all shapes and sizes, but that does not change who YOU are. All you can do is be the best YOU can be with your beautiful body, just as it is, and go out there on race day, leaving the best you can give for that day. If you do that, you should be proud of yourself.
Enough rambling from me, here is the interview:
Tina: You have always been an inspiration of mine for your gutsy racing, and the way you go out there and go get what you want. Who inspires you? Did you have someone who first inspired you to start running?
Emily: Thank you! There are a lot of people that inspire me to be honest. I wouldn't say I have one role model, but I am inspired by a number of talented women in this sport. My coach, Ray Treacy, coaches athletes like Molly Huddle, Kim Smith, and Amy Hastings. I love their approach to the sport. They are so hard working and humble. It inspires me more that they are such incredible women outside of the sport as well.
T: Describe a typical day for you ?
E: I typically have a short morning run on a workout day. I will work a few hours a day as a graduate assistant at the school before I'll have my workout in the afternoon. Then, graduate school classes are in the evening. I always look forward to unwinding at my apartment after the nights I have classes!
T: What is your favorite guilty pleasure?
E: Netflix.
T: What is a typical day of eating for you?
E: It varies a bit! Whatever is on special offer at Whole Foods is what I stock up on haha. I try buying unprocessed, whole foods and adding fresh herbs and spices to my meals. I have found when I take proper care of myself, it affects more than just running. I feel happier in general.
T: As elite runners, especially in college, it can be hard to not fall into the trap of thinking skinnier=faster, how do you manage to stay away from that? What makes you know you are doing the right thing?
E: There have definitely been times I have felt insecure for not having the typical "runner" body. I do have to watch what I eat to an extent. However, when I am taking care of myself and fueling with nutritious food, I don't worry about a certain weight. I feel confident in how strong I feel. There are races when I feel like I can keep going for a long time, and I think my body type is a huge reason for that.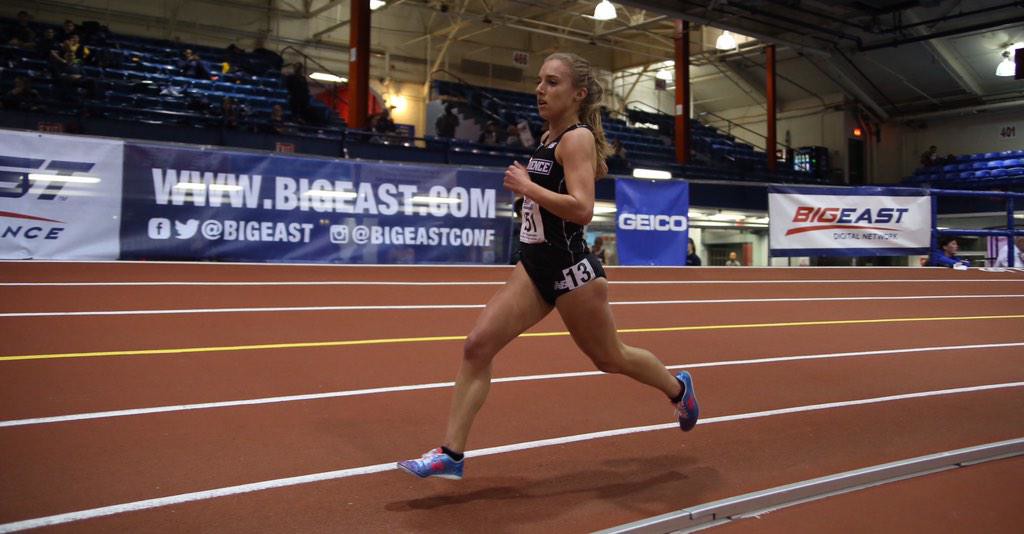 T: Has there ever been a point where you did restrict what you ate? How did you get yourself out of it?
E: I do have to watch what I eat to an extent, but I don't try to limit what I eat. I try to look at the quality of foods as opposed to concerning myself with restricting the amount of food. I feel my best when I stick to healthy, wholesome foods, but I am not a slave to any diet! I treat myself now and then, and at the end of the day I feel healthy and happy!
T: Why do you think it is so important that we build stronger runners, rather than fragile, frail, injury-prone runners? Do you think the attitude towards unique body shapes is changing?
E: Everyone is unique. It is human nature to compare, but I have come to realize I waste so much energy when I compare myself to others. It is all negative energy and it is very exhausting! When I am taking proper care of myself, I love how strong I feel on my tempos and long runs. Every now and then I will fall into the comparison trap (especially when I am tired), but most of the time I love how strong I feel! I know that my body contributes to that and gives me this strength.
T: Do you have any pre race rituals?
E: I am not superstitious, but I do like to be as relaxed as possible before my races. I definitely binge on my favorite Netflix shows leading up to a race!
T: When you recently ran 15:12 indoors, what was going through your mind as you saw the finish line come into focus?
E: It didn't hit me until afterwards! I was not planning on running that sort of a time, but I felt amazing in the race. I have been feeling so strong this year, and it was incredible to see that kind of a result.
T: What do you tell yourself when you start to doubt yourself in a race?
E: It's usually before a race that I have to deal with most of my nerves. I like to take my mind off the race by doing things I find relaxing. I think this is the third time I have mentioned Netflix haha.
T: What was your lowest running moment, and how did you overcome it?
E: At our cross country conference meet two years ago, I fainted 300m short of the finish line. Our team was hoping to win that year. I had put a lot of pressure on myself after only having been back running for a couple of weeks. Learning how to handle pressure has been really important for my growth as a runner.
T: Do you have any plans for running after college?
E: I would love to continue running after college! I'm going to enjoy my last season of NCAA eligibility first, but I think it will be a very exciting step to take.
And I look forward to seeing what the future does hold for Emily, especially in the marathon! You can find her on twitter HERE.
[Tweet "Great interview from @tinamuir with 15:12 5k Runner Emily Sisson, and how she avoids the comparison trap #fuelyourfuture"]
How do you avoid the comparison trap? What is your guilty pleasure?