Today, I would like to actually share a day in the life of post, and I am going to do it as part of a What I Ate Wednesday (thanks Jenn) post, as obviously being a former elite runner who covered 70-90 miles a week means that you consume a lot of food!
I decided to use Monday, but I may go back and share a few other days of the week, as each day is quite different. Mondays are usually the day that my running receives the most attention, which is what you are most likely most interested in.
So lets begin
6:15am
Alarm goes off. I am usually somewhat awake at this time, and have looked at the clock at least once by now. Quietly walk to the kitchen, trying not to wake Steve. Turn on the kettle (which I filled the night before with water). Have a chai tea with a small amount of NuNaturals Stevia. While it is boiling, get the computer up and running.
6:30
Mix a bowl of cereal; a combination of cereals/granola, maybe with soy/almond milk. Attempt to shovel the pieces into my mouth, usually dropping half of it on the floor as my eyes are already on the screen reading through blogs…..oops!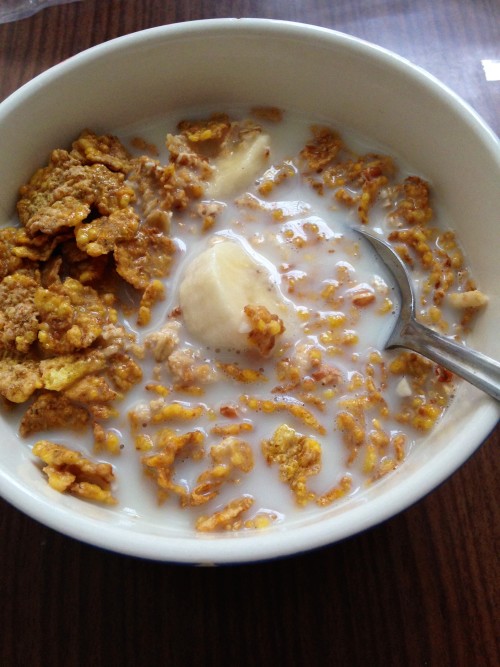 7am
Begin working for Runners Connect; emails, preparing buffer for the day, final preparations to the posts, comments, reading running related articles for sharing later, talk to Jeff (my boss). Just normal social media manager stuff……if that can be considered normal….. I am sure that 95% of my friends and family could not explain my job to anyone else! 😉
Get a little more food; some nuts and dried fruit, or half a Balance Bar
8:45am
Time to get moving (promised Steve I would not sit and go right out the door from sitting). Prepare myself a snack for post run (Twin Lab Clean Series Protein drink, and a banana), and get ready for the day.
9am
Drive to my Chiropractor/ART office listening to marketing podcasts. Park the car, and bundle up for my run.
9:30am
Begin doing Dynamic Warm up exercises in the parking lot, smile at the people who are staring at me like I am a crazy person.
Pee for the 5th time today, just in case I need to go on my run….which I often still do.
9:40am
Run from Dr Mikes office. Usually 8-9 miles along rail trails and through neighborhoods. If I am feeling sore or particularly tired from the long run the day before, I will let myself listen to a podcast or music while I run. Sometimes I meet my speedy friend Allie Morgan to run with, depending on our schedules and if we both are seeing Dr Mike that morning.
10:45am
Stretch while talking to one of my good friends, Erin who is was Dr Mikes receptionist. Check social media for Runners Connect and my accounts.
Drink my recovery drink and eat the banana.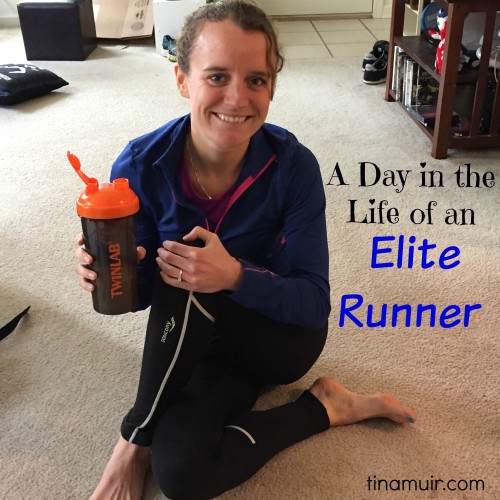 10:55am
Change out of my wet clothes, use baby wipes to clean myself off (classy huh?)
11am
Either massage with Karen; full hour massage working on my entire body, focusing on whatever areas I noticed are particularly tight.
OR
Active Release session with Dr Mike Sullivan. This HURTS! Active release is SO good for you, particularly if you have something wrong; he did wonders for my hamstring, but also is great for keeping your muscles loose.
12pm
Drive home
12:25pm
Have lunch; leftovers or a Almond Butter & Jam sandwich (all homemade, including the Whole Wheat Bread), with an apple and the other half of the Balance Bar.
12:45pm
Work for Runners Connect
Monday is my "posts" day, which means I spend most the day putting the articles from our writers into wordpress and editing them/making them easy to find on the internet. I will also edit past articles, engage with people on social media, research, and prepare for podcast interviews.
2pm
"I can't be hungry already? Are you kidding me?" Walk to the kitchen, get another snack….1/2 an avocado or a few spoons of almond butter. Get some nutrition in there.
3pm
Okay, this must just be boredom; have a tea.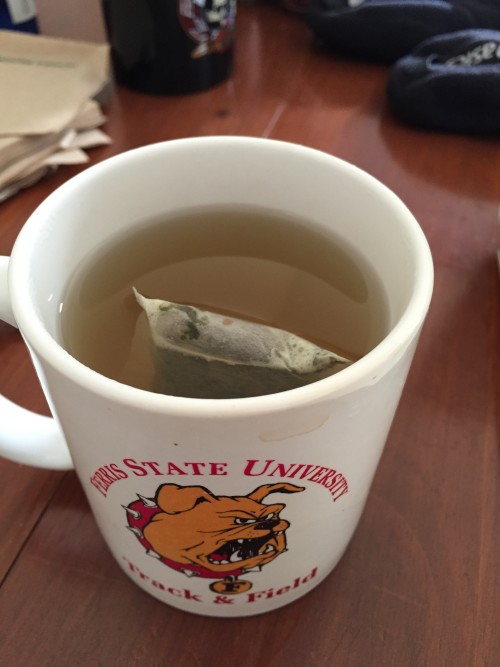 Stalk the mailman as I hear his car coming down the road; try to make it look as though I just happened to be going outside as he reaches the next house.
3:30pm
Alright, I am legitimately hungry, listen to the body. Have a bowl of cottage cheese or Greek Yogurt.
5pm
Talk to my mum and dad on FaceTime for about 30 mins.
5:30pm
Make sure everything is together for the rest of the day; send final emails, prepare social media for the evening, work on posts for the 2 business Instagram accounts.
6pm
Prepare dinner; MEATLESS MONDAY! Listen to business podcasts while I cook.
Try not to snack on more nuts while Steve is on his way home.
6:50pm
Steve arrives home, run to the door like a puppy who's owner has just come home. The food is already on the plates, Steve has to dump his bags on the floor and eat.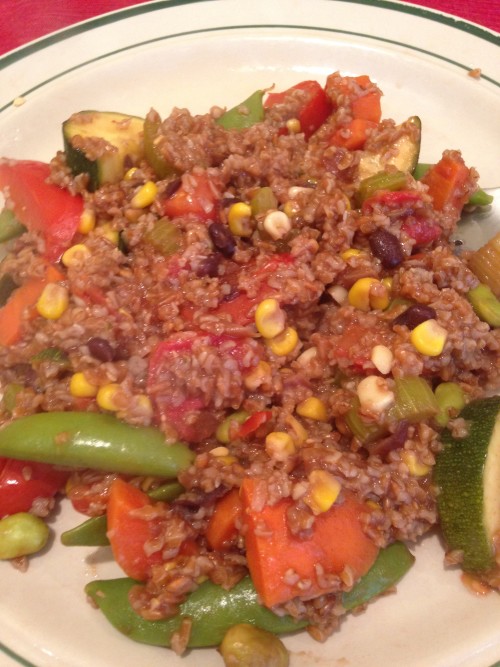 Sometimes Steve is extra lucky and it is one of the days I am trying to prepare a recipe for the blog, I am in a state of panic and anger as the food is just not looking as good as I want it to. I yell and stomp around. He somehow saves the day, and makes it look somewhat presentable.
7:01pm
Finish eating dinner, consider asking if we can have dessert yet. Resist the urge.
7:30pm
"Dessert time?"
"Of course!"
We load up with a big bowl of ice cream, or a smaller bowl of ice cream with whatever baking I did over the weekend. Here is a typical bowl
8pm
Watch Netflix; Parenthood is my current choice, and Steve likes Arrow, Royal Pains, and Justified.
8:30pm
If it is not parenthood, I usually get a little bored and go prepare Steve's lunch for the next day, and my clothes for the next day (as Tuesday is an earlier morning). Sneak in some more nuts, even though I am still stuffed, Steve teases me about being obsessed with eating nuts (keep your minds out the gutter!).
9pm
Do the UVA Speed Clinic Exercises, while we continue watching TV.
9:30pm
Roll out using a PVC pipe.
9:45pm
"Bedtime"? Steve begrudgingly agrees, although he is nowhere near ready, but I take 3 hours to fall asleep, so he agrees. Floss, Brush, Mouthwash. Take my Enduropacks L-Glutamine, and stick my amino acid patches on.
9:55pm
Steve reads a book. I try to sleep.
10:05pm
Sensing my fidgeting, Steve turns off the light, and reads yahoo articles on his phone
10:25pm
Lights out. Tina falls asleep in about another 30 mins
And there you have it! That is a typical Monday! Like I mentioned, each day is a little different, so I may well do a Tuesday and a Wednesday post in the future, especially once I get into the middle of my marathon training. Mondays are always the major recovery day.
Not too different to your day was it? What is your favorite thing to do in the evenings?