Another post on baby essentials, this time for 3-6 month old babies. In case you missed my baby products for newborns and baby products for 2-3 month old posts, there they are.
It has been a while, but once you reach that 3 month mark, things start to change pretty quickly as babies learn to do something new pretty much every day. It gives you a lot more rewards for your hard work looking after them, and makes those stressful moments much easier to forget when you see the biggest, most beautiful smile.
I thought a post on 4 month old must have's was a little over the top, so a baby must haves for 3-6 month olds would be best.
Now, to start, as before, I am sharing the items from my 2-3 month old post that we are still using on a daily basis. These are still Baby essentials for 3-6 months, but I already talked about them in detail in the previous posts.
Now for the things for babies that we are loving in the last few months:
Halo Sleep Sack Swaddle
We have said goodbye to our beloved Miracle blanket, honestly one of our top three favorite purchases, and it sure helped to get Bailey in a good habit, she sleeps 7-10 hours a night now…although now I have typed that I will probably jinx it!
However, the Miracle Blanket is only designed for babies up to 14 weeks and we needed to start working her out of a swaddle for her nighttime sleeps.
I had read good reviews on this one, and I liked that it had the option to swaddle first, so it was not so aggressively changing everything about the way she slept. You could keep one arm in, both, or neither. It took Bailey a week to get used to her arms being out once we unswaddled her, she kept sticking her hands in her mouth and choking on them. But now, she sleeps really well, up to 10 hours, and we just have the velcro strapped down across her chest, so her legs are free, her hands are free, but she's snuggled up in the middle.
Find the Halo Sleepsack Swaddle here.
Infant Optics Monitor
I am a big review nerd. Most things I purchase I have researched heavily, which is why I feel confident making the suggestions I do for you as I love them, and others do too. A monitor is a pretty big purchase, and I was determined I would have found the best one out there.
This one had SO MANY reviews on amazon, and I went to check it out myself in BestBuy and decided to go for it.
We have really only used it recently, which is why I did not mention it in a previous post, even though we had it before she was born. I wanted to use it myself first. We love this monitor. It is easy to use, you can move the camera to see the whole room (which makes a funny game for the adult in the other room watching the adult in the room!), and you can if you like, talk to them through it.
We haven't decided if we are using that function yet. It freaked my niece Charlotte out while she was here, so I am not sure.
The only downside? The battery life is not the best, but charging it while you watch it is easy enough and it does give you a long cord.
I am very happy I purchased this monitor.
Find the Infant Optics Monitor here.
Infantino Girafffe
Bailey would stare at this thing for HOURS a day, and I mean hours.
I am not sure if it was the contrast of the zig zags, the fact that he strapped on to her car seat and she could look at him as he swayed, or the jingle noise, but it was her favorite thing for quite a while. She has mostly lost interest in it by this point, but she still likes to sit and feel it while she is in her car seat. A gift for a friend, this is a good one.
Oh, and when I was in Target the other day purchasing this for another friend, I did notice they had new animals in this toy, but I would have still gone for the Giraffe as the others do not have the contrasting colors in the pattern on the belly…just maybe something to consider 🙂
Find the Infantino Go GaGa Giraffe here.
On that note..spekaing of favorite toys, this is by far Bailey's favorite toy of these few months:
Baby Einstein Musical Toy
This is a great toy to use if you have a baby who hates tummy time. The music and lights stop them in their crying tracks, which helps prolong tummy time much later. We also keep it in her diaper bag for moments we are out in public and she starts crying…like when we were at Steve's award ceremony and there were a lot of people in the room. You can have the sound on or off, but it is a great distraction technique for them, and it's playing Mozart songs, which I like to think I am helping her intelligence just a little.
We love this thing!
Find the Baby Einstein Musical toy here.
Fisher Price Rainforest Bouncer ($30)
Bailey spends a good chunk of her day in here. With the bar of toys on (and we now attach other toys on top), with the bar off looking at either Steve or I, and she also sleeps in here for at least one nap a day.
This is really handy for when you need to put baby somewhere where they are safe, but there is a decent chance they will stay happy for a few minutes while you run to the bathroom, shower, make dinner.
It has a vibrate setting, which is quite nice for those naps, when she is getting sleepy, the vibration helps to push her over the edge to fall asleep.
I often take her outside in the afternoons and I can put her in her bouncer and she loves to feel the wind blow on her face.
As far as bouncers go, this is a really good one.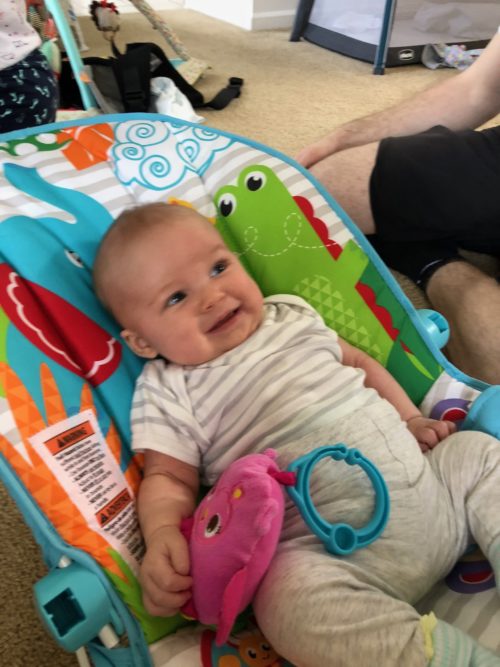 Find the Fisher Price Rainforest Bouncer here.
Dr Browns Options Bottles (original, before we were using wide neck) ($18 for 4)
Up until this month, we were using the wide neck bottles, Bailey found it easier to handle it. Now she is just as happy with the original bottles. She is now at the point where she can use the 1 or 2 size nipple. Dr Browns Bottles are called Options for a reason, it gives you lots of them!
When it comes to babies and bottles, you never really know which ones they are going to like or not, but I feel confident saying with these ones, you have a pretty good chance of getting it right 🙂
Find the Dr Browns Options Original Bottles here.
The O Ball Linky Loops ($5)
When Steve picked these out for our registry, I was skeptical. I couldn't see why we needed these, but I had agreed to let him pick the toys…cause I picked just about everything else 😉
For the first few months, we would move them around in front of her eyes, as she was interested in the colors, but now, she loves to grab them. You can link them anywhere, and put them on anything for them to grab and play with. For such a low-cost product, these were a really good buy!
Find the Oball link loops here.
Gummee Glove ($19)
My mum recently sent this one over from England, so friends in the US, I am not sure it will be possible to get it here. Bailey is teething right now, and that means anything and everything goes in her mouth…especially her fingers. This gives her something to chew on, while exploring with her tongue, she really seems to enjoy it, and they have even thought to put a crinkly material on the outside for the other hand to grab and play with.
Find the Gummee Glove here.
Fan Fan the Fawn (aka Sophie the Giraffes friend) ($20)
Okay, so everyone loves Sophie for Teething. I think it is the best known teething toy.
I wanted to be a little different…but not too different 😉 and so I choose the fawn version named fan fan. Bailey loves to chew on his/her butt, and I have a feeling this will be used a lot more in the coming months.
Chicco FastAsleep Playard ($180)
We have still not used the playard aspect of it, so this one is a little deceptive, but I have a feeling that part will start coming into use soon.
For now, we are loving the changing table aspect of it. First it was a newborn size, with a nice soft back, and we have now switched to the full size changer with pretty high sides, which gives you a bit more security. It has little pockets on the side for putting things in.
It is also really easy to wipe down…because accidents happen when changing diapers sometimes 😉
Really happy with this playard…before it even became a playard.
Find the Chicco FastAsleep Playard here.
Books
Bailey is loving books right now, especially when daddy reads them to her. She will often start babbling while he talks, I like to think that she is making up her own version of what she sees on the pages. Here are some of her favorites:
Baby's Big Busy Book ($12)
By far her favorite right now. She LOVES to look at all the different colors and pictures on each page. She gets very excited reading this one.
Find Baby's Big Busy Book here.
A Hop is Up ($15)
She babbles a lot during this one, this one and the next one are the two that are age appropriate for her right now, and she can really focus on the pictures…and apparently make up her own story.
We were lucky enough to be sent this book as a signed copy from Lori Richmond (same with Bunny's Staycation), but you can find a hop is up here.
Are you My Mother? ($6)
Another cute one, and a classic, so how can you go wrong?
Bunny's Staycation ($12)
Okay, so this one is my favorite. It is an adorable story, and I like that the roles are reversed and the woman is the working one, while the dad is the stay at home. I like to think someday she will love this book as she will want to be an independent woman who does find a career path she loves, like I have 🙂
Medela Breastpump
This is the insurance breast pump, so it wasn't like I had much of a choice, but it has been a really good pump. I only usually give her the Dr Browns bottle once a day, but if timing didn't work with me going for a workout with Drew, I would also pump in the morning. I have a feeling I will be using this more over the coming months as we make breast milk popsicles and store away some more for the future.
This one is relatively quiet, small, and just works well for what you need it for. It even screws onto our Dr Browns bottles, which means I can just express milk into them directly.
Find the Medlella Breastpump at a local carrying pharmacy.
NatureBond Silicon Manual Breast Pump ($15)
My sister gave me this one, it was hers. At first I wondered why you would ever need this, especially if you didnt need to save every drop with a large supply. If you do struggle with enough milk, this might be a lifesaver for you as it is amazing how much you collect by just putting it on there while you pump the other side or even while they feed from the other side. Bailey tends to move and kick her legs a lot, so I don't use it while I am feeding her, but I put it on the other side in the mornings afterwards, and it collects a good ounce. Without even pumping anything!
It is also made of silicon, which feels a bit safer, and it washes up well.
I love that this one even comes with a stopper, as I have had a few occasions where I have spilled it as I hoped it would stay upright while I did something.
Find the NatureBond Manual Pump here.
Infantino Foot Rattles ($5)
I really like the Infantino products as a whole. They are really well designed, and often are Bailey's favorites. I haven't been given any free products from them by the record, I just genuinely like what they make. They are also pretty inexpensive, these rattles are a good example.
These foot rattles are another favorite, and for mum as well as baby. I bought these for my niece, Charlotte, and my sister proceeded to buy them back for me as Charlotte loved them so much. I say they are for mummy and baby as the pure joy it gives you when your baby is kicking their feet and giggling to themselves…Is worth every single penny. For a few weeks Bailey was hit or miss, but now, she LOVES them!
Find the Infantino Foot Rattles here.
Jellycat Bashful Monkey Blanket ($20)
I had heard wonderful things about Jellycat, how they were SO soft, held up well, and babies LOVED them, so I was hoping I would be given something from the brand.
Thankfully my sister and mum put this adorable monkey blanket in my baby shower gift basket, and we are now starting to introduce it to Bailey more and more to hope this becomes her lovey…and maybe we can eventually get the dummy to disappear.
I slept with this in my bed for a few nights, and since then, she has been clinging on to it a lot more during her daytime naps. I haven't yet left it in her DockATot overnight, makes me nervous as she likes to put it over her face, but it is a wonderful little blanket, and I even asked my sister to pick me up another one recently in case this one gets lost.
Your's doesn't have to be this one, but around this time it is good to introduce a lovey, and Jellycat make the best ones!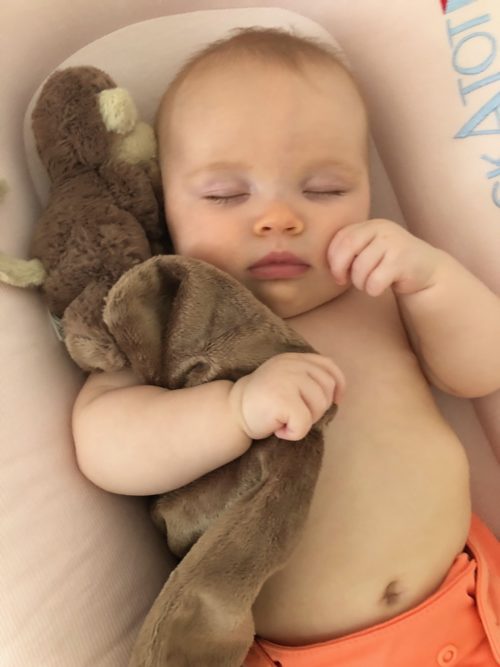 Find the Jellycat Bashful Monkey Soother here.
Tula Blankets
We have three of these and absolutely love them. When I was pregnant, I thought all we would need is one blanket, to just act as an everything blanket, but soon after birth you realize you can't just rely on one. As soon as you have done a load of laundry, it is almost guaranteed they will spit up on your clean things…even at 5 months!
These Tula blankets are beautifully soft and come in the most gorgeous colors. We use them all day every day; on the floor so she doesn't lie on the carpet, as a cover for her legs in her car seat, to lie her on when we go to a park, and tummy time can be anywhere. We use these blankets daily, and thankfully, Tula sells them in packs of three.
Find Tula Blankets here.
And I thiiiinkkk that is it!
Think we could be friends?
Being a mama is HARD, especially when you feel so overwhelmed. If you need a friend, someone to help you rediscover who you are or even just listen. Drop your email below, and I will reach out to you
Oh, and just one more thing. I have put amazon links to most of these products, but if you go in stores, they will often do a price match. I personally like purchasing things in store, as I hate the idea of stores disappearing forever, but Amazon gives me a TINY (but every little helps support me and my business) amount of money if you use my links to purchase your products. I would rather you keep the stores in business too, so buy these in person if you can, but can I ask that if you do decide to use amazon, could you please use the links above.
Thanks so much in advance 🙂