At the beginning of December, I sat down to write a blog post thinking hmmmm, I could do a review of the year, but it's not over yet! We still have 1/12 to go, and so much could happen!
But then suddenly I am in my final blog week of 2016, and I haven't even started…or thought about it for that matter.
So today is the day.
But even though 2016 was a crappy year for most, and everyone seemed to be wanting 2016 to be over, for me, it was actually an amazing year, especially for my running, but I would rather save that for another post next week, so will recap my races then.
So I am gonna break down my year, for those of you who did not know me before, but mostly for me to reflect on the year at some point in the future.
So 2016, what did you bring?
January
After our honeymoon in Australia and Christmas at home in England, Steve and I arrived home in Lexington. I wasn't there long before a winter storm was headed our way, and I fled to Tallahassee, Florida to train with Zap Fitness for a few weeks.
I enjoyed lots of runs in beautiful trails (with Sinead in this picture)
And got back into my Strength Training after a month off
And had a lot of dance parties and fun with Ms. Sarah Crouch (did you like the podcast we did that released on Christmas Day?)
February
Returned home again for the small life event of my SISTER'S WEDDING! It was such a beautiful day, and made my heart so happy!
I was hoping to make the World Half team for Great Britain, so I was training hard, but being at home meant I had to find some resources, including this lovely lady to keep my muscles nice and loose.
Matt took some running photos of me at the famous London Monuments (although it was frreeezzzing!)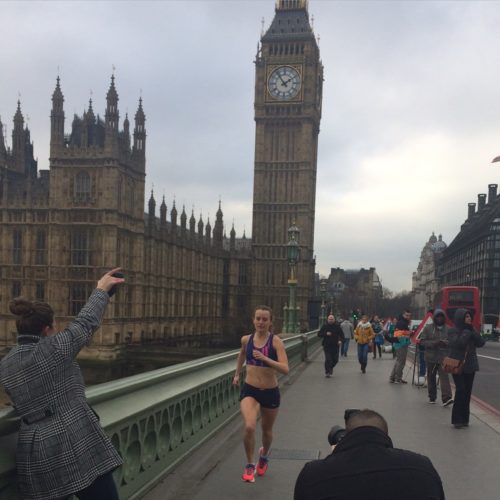 March
After running well at the Rock 'n' Roll New Orleans 10k, we knew all that was left to do was put my head down and get to work in case I made the World Half team for GB&NI.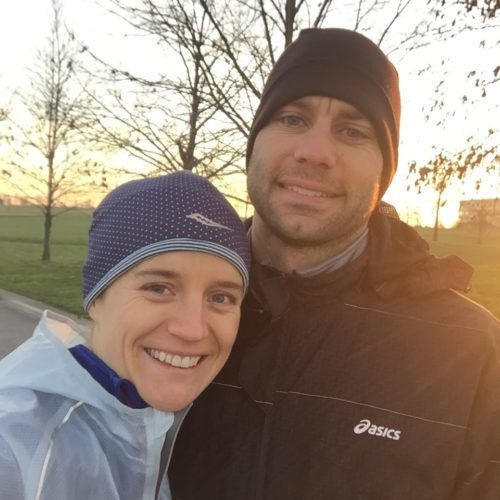 So that's what we did, and it went well, including an amazing workout with Sarah.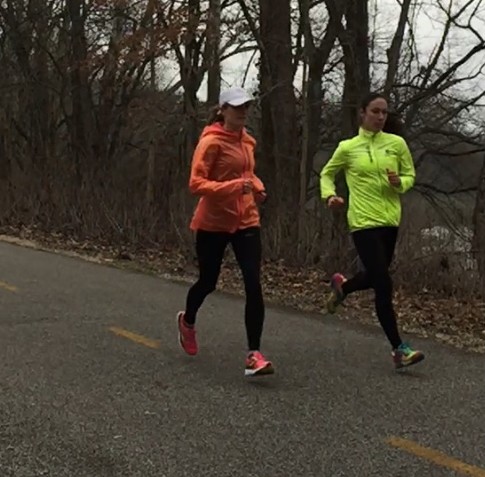 Heartbreak over not making it, led to a twist of fate meaning I could, and at the end of the month, I finally got to accomplish my biggest running goal.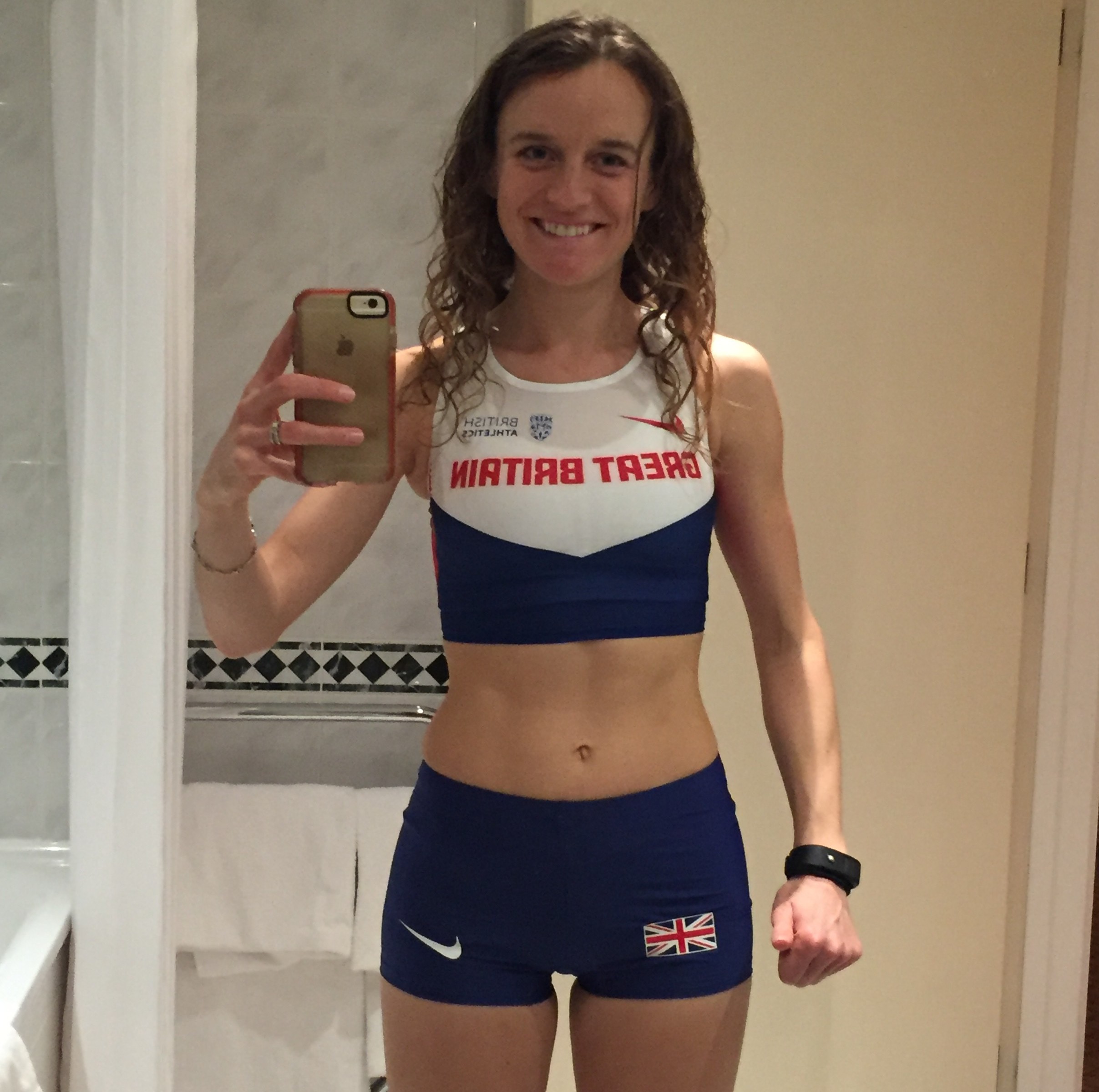 With friends and family there to support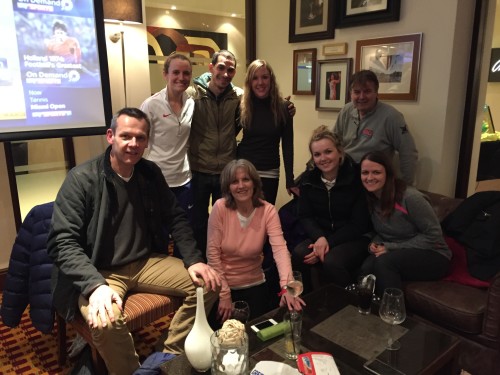 But with the London marathon closing in quickly, it was time to recover and keep my head down, including a few days of celebrating Easter with my family in the countryside. We decided it was better to stay home than travel back to the US for a few weeks.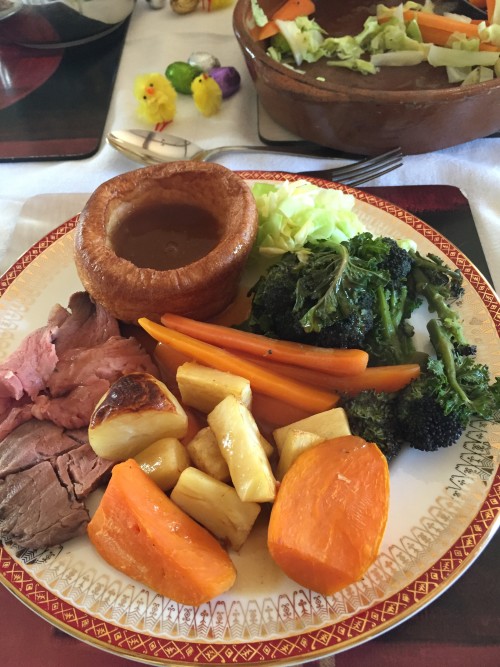 April
Started off the month at a Spa with my Auntie Jenny (enjoying an English Tea)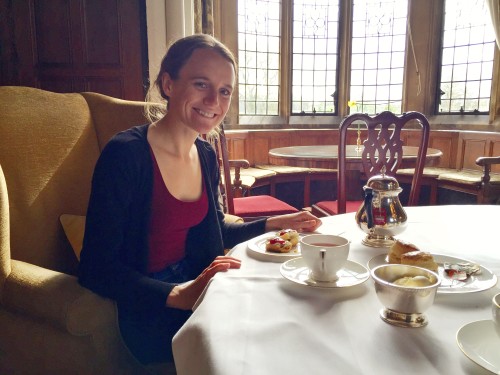 Went to see one of my best friends sing in her gig, which made my heart so happy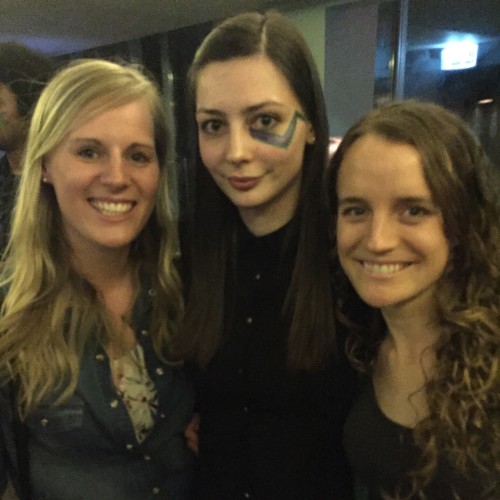 Finally got to meet my sports psychologist, Evie, "in real life"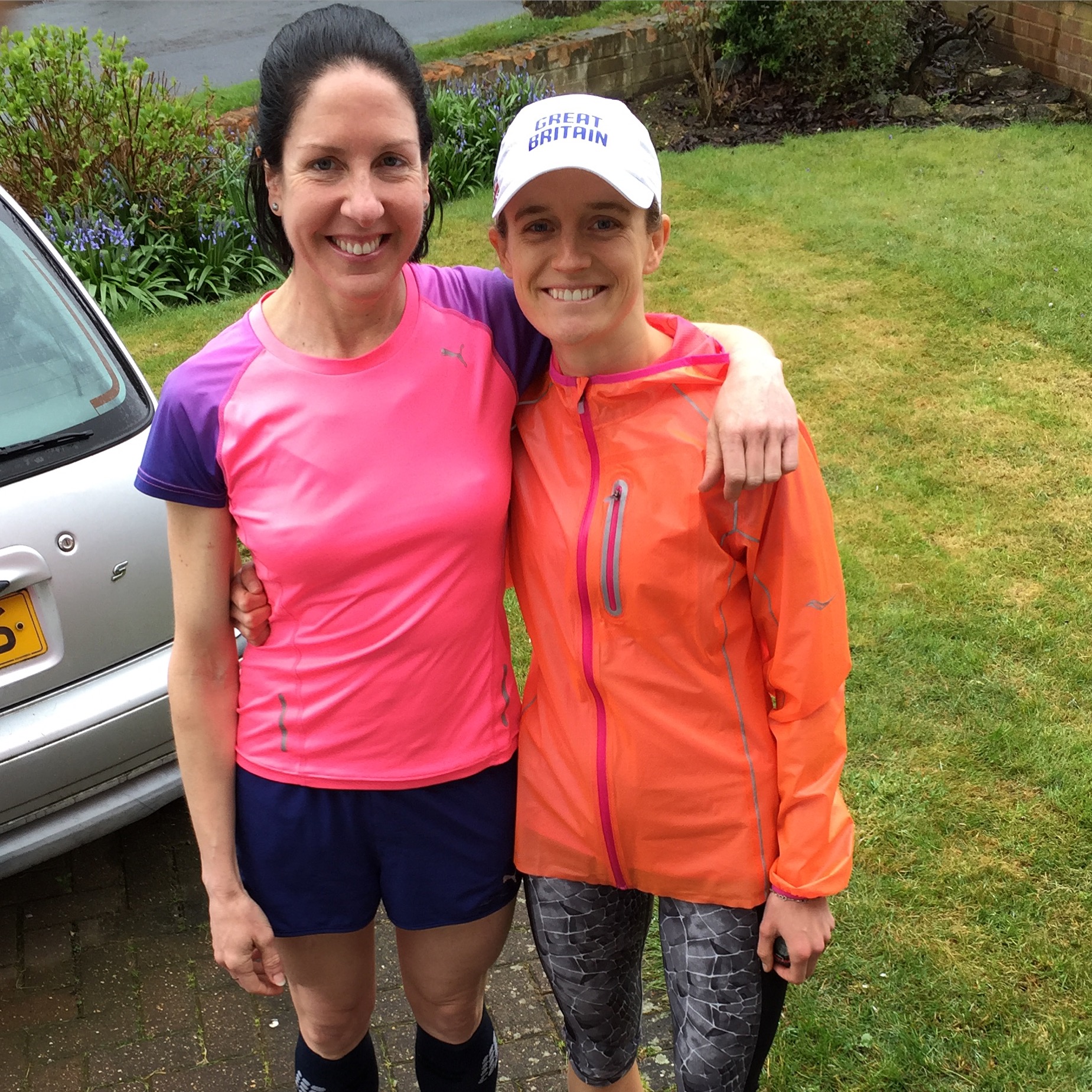 And ran in some beautiful places at home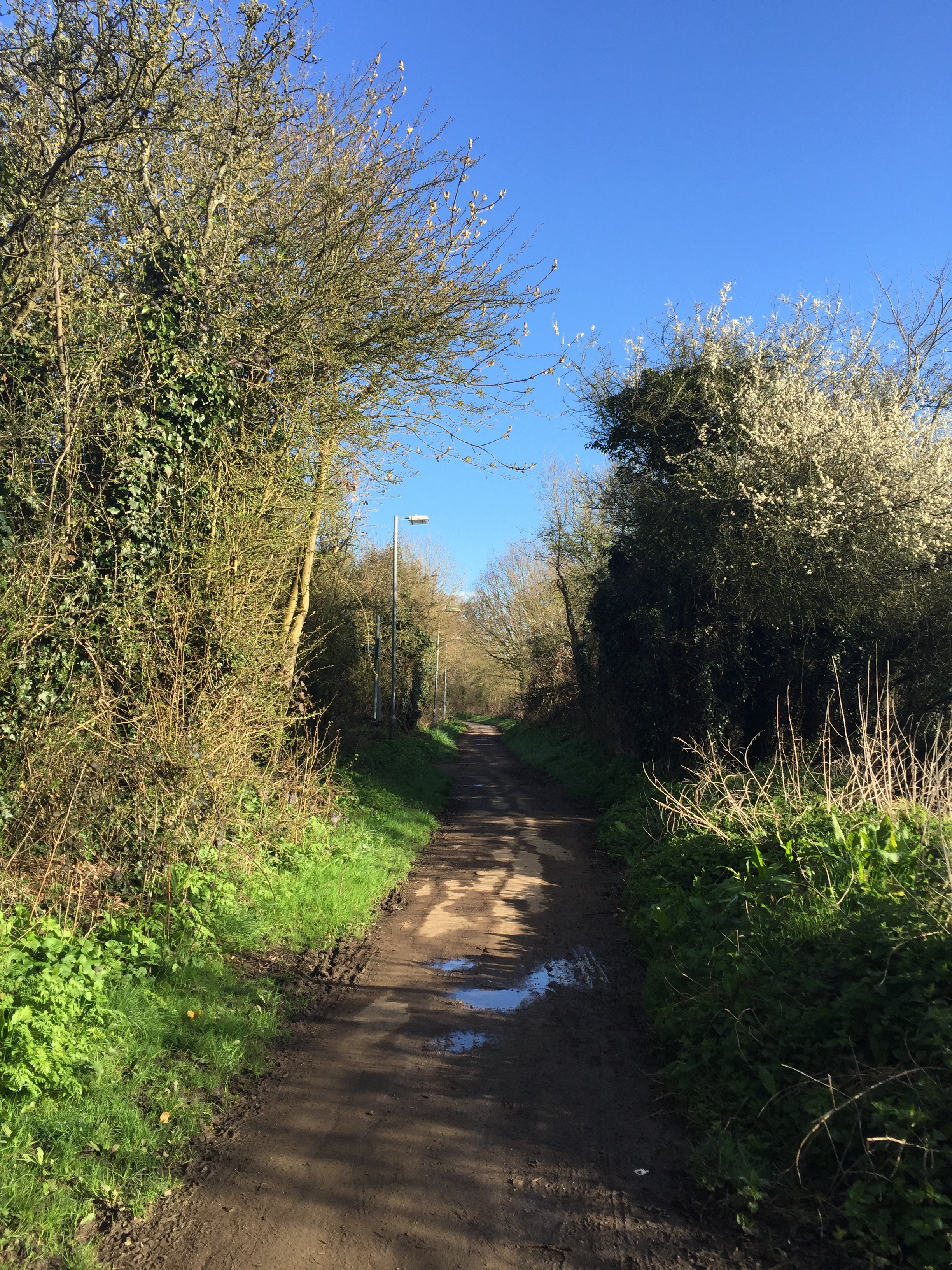 Got in all the training I needed to do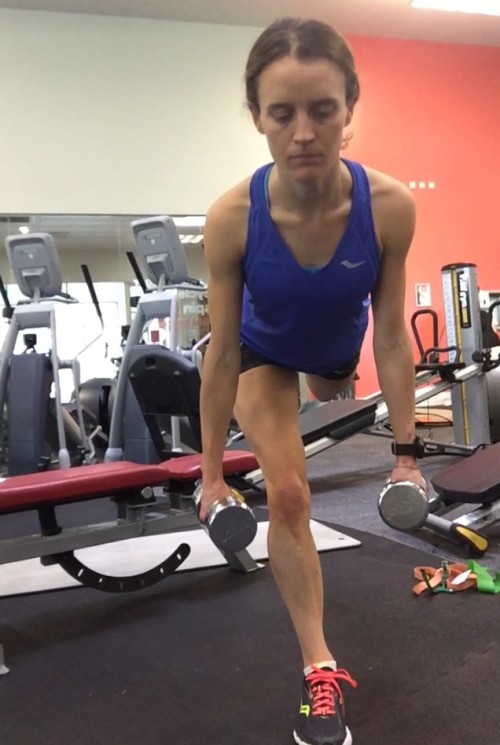 And at the end of it, it was all worthwhile, I ran a 4 minute PR, and celebrated with this Freakshake (after a burger!)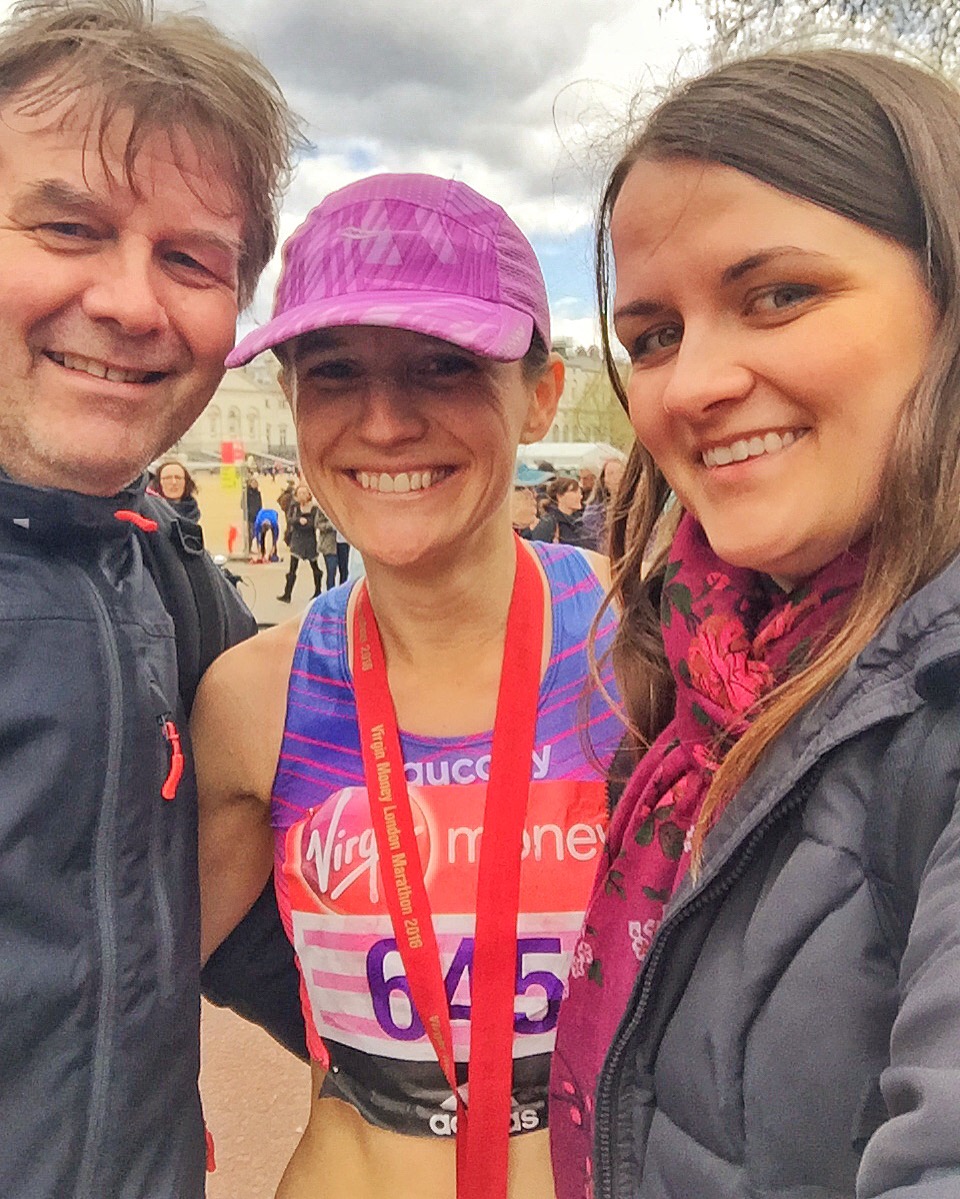 May
After an intense season (mentally and physically), I enjoyed 2 weeks totally off all exercise and took time to do some other fun things, like eating sweets and spending time with my hubby 😉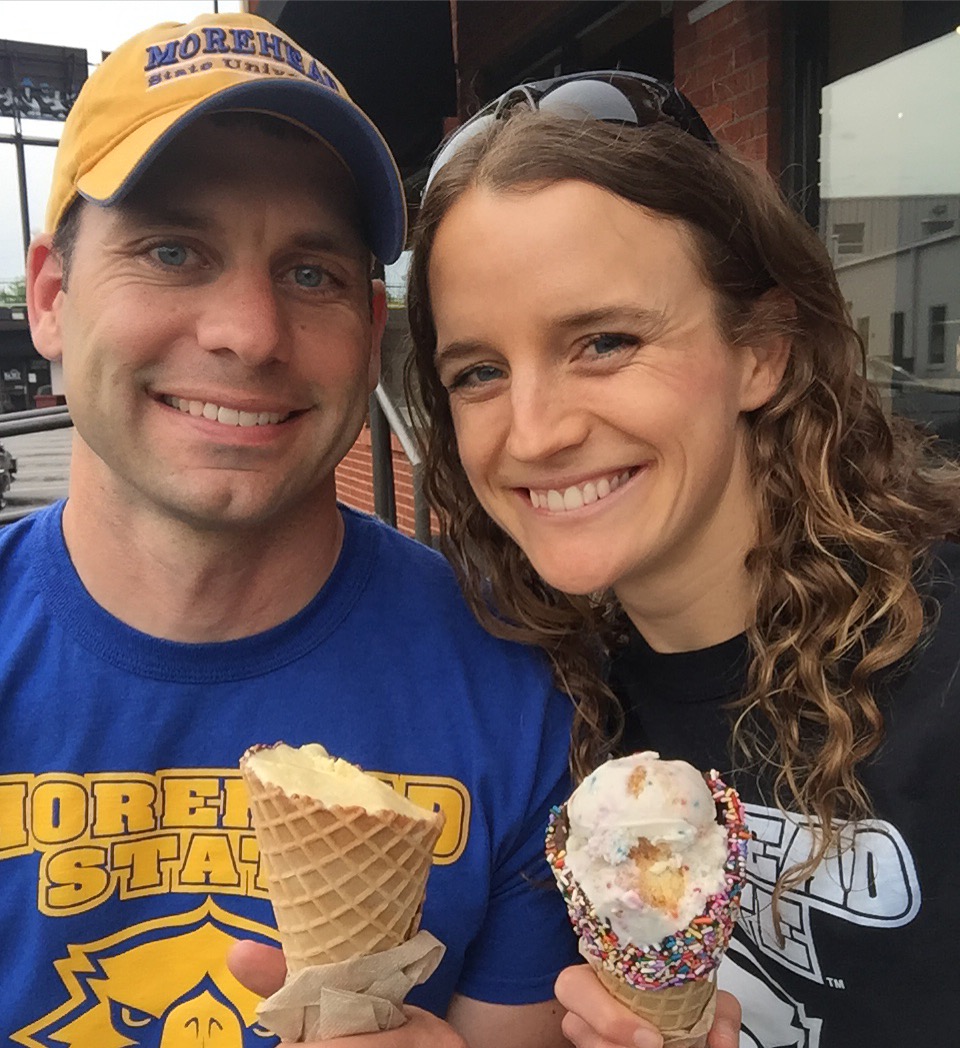 I also recorded a podcast with this guy (Coffee, AKA my strength coach)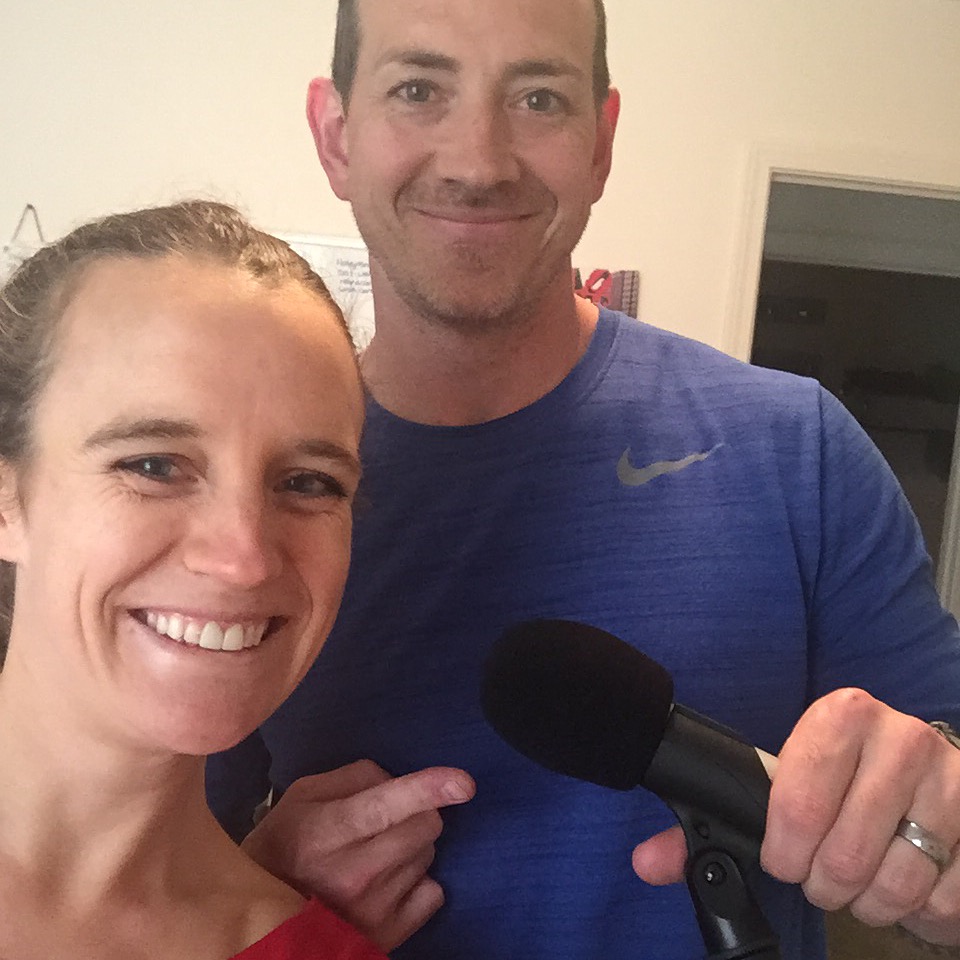 Did some wine and painting (well actually endless mimosas and painting) with this beauty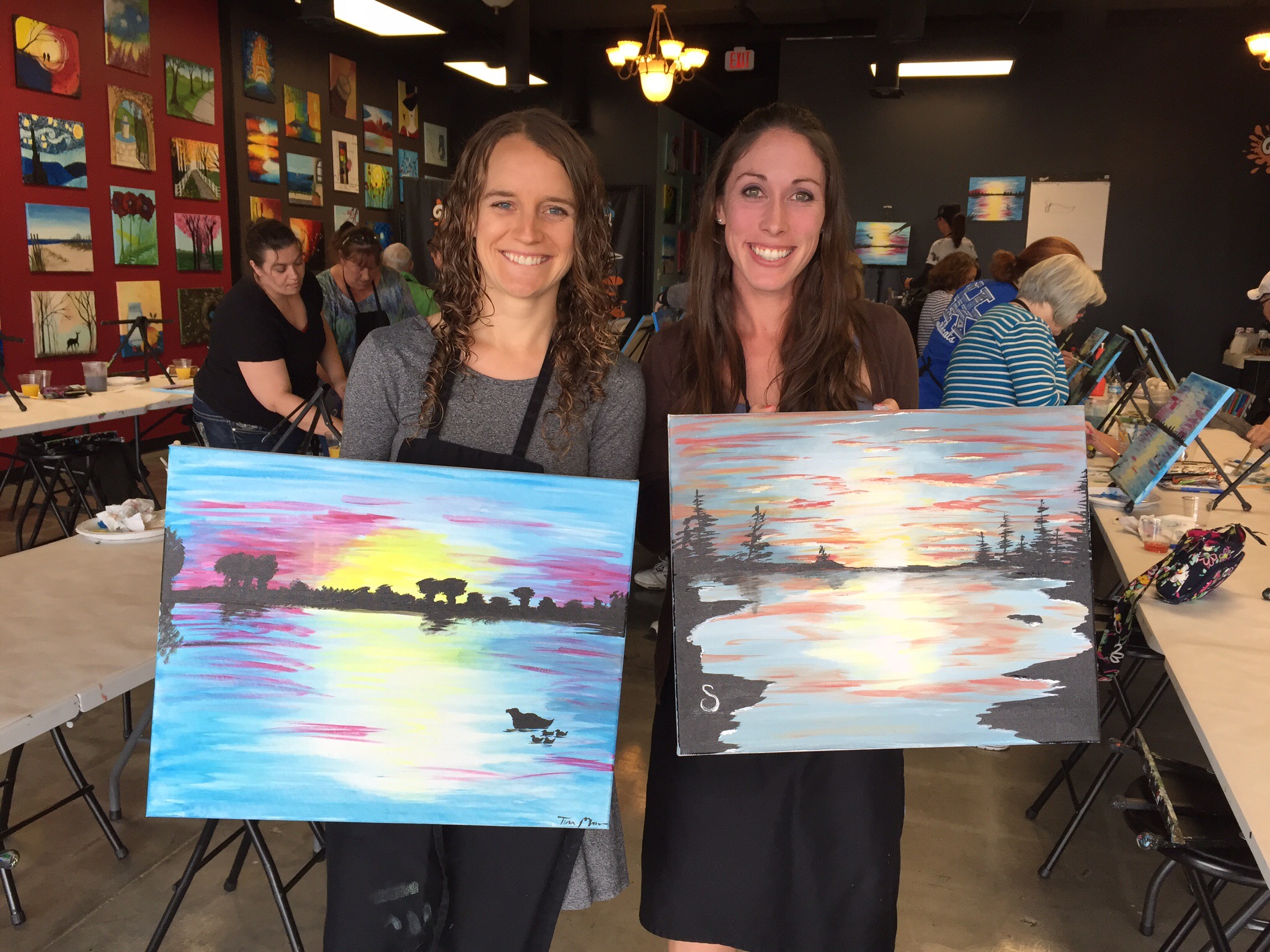 And even went for a few walks…which I NEVER do.
Only 5 days after taking 2 weeks off, Sarah and I ran a local race together, and we both felt great (she had just taken her time off after Boston). It was so fun to actually "smell the roses" with a race!

June
We started off our month with our third visit to the UVA Speed Clinic to work with Team Ice Cream on getting my running form right.
We shook off the rust with a few workouts…in matchy-matchy clothes 😉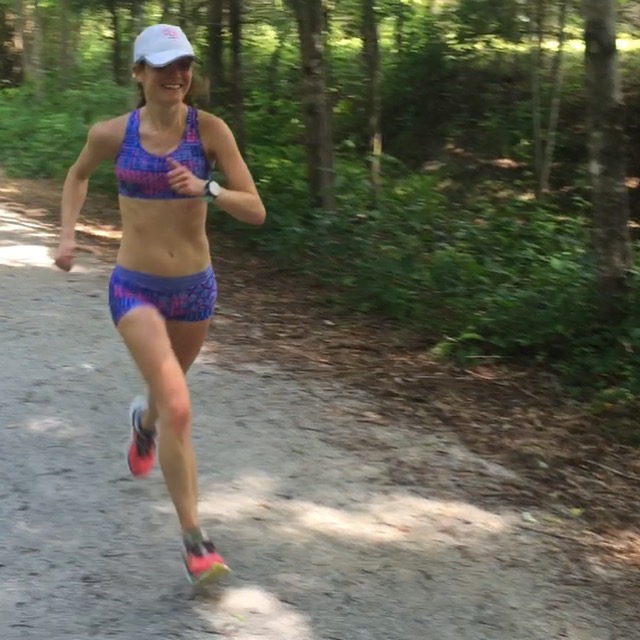 And ate a LOT of ice cream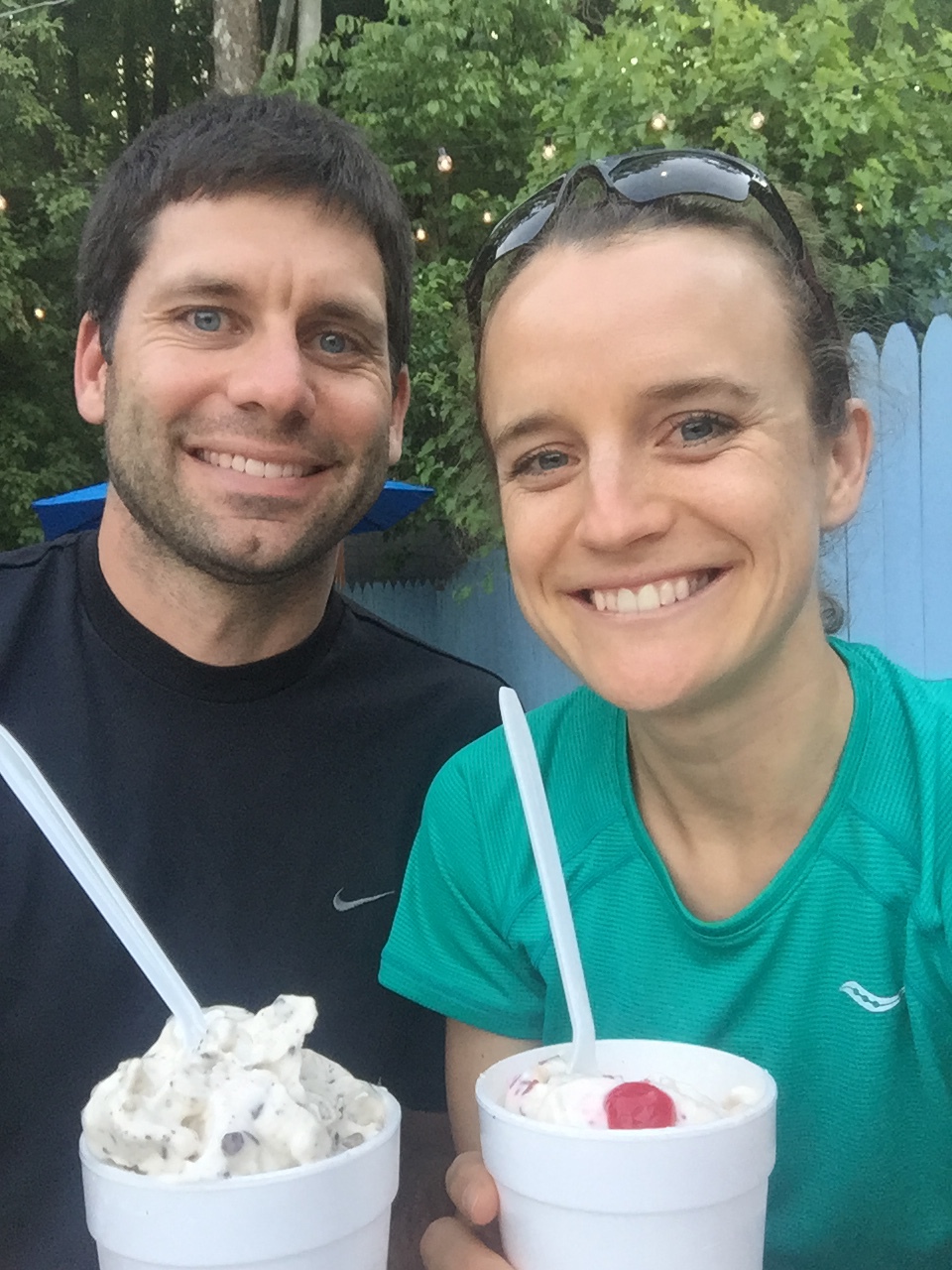 We also traveled to Michigan to see family and friends and go to my former teammates wedding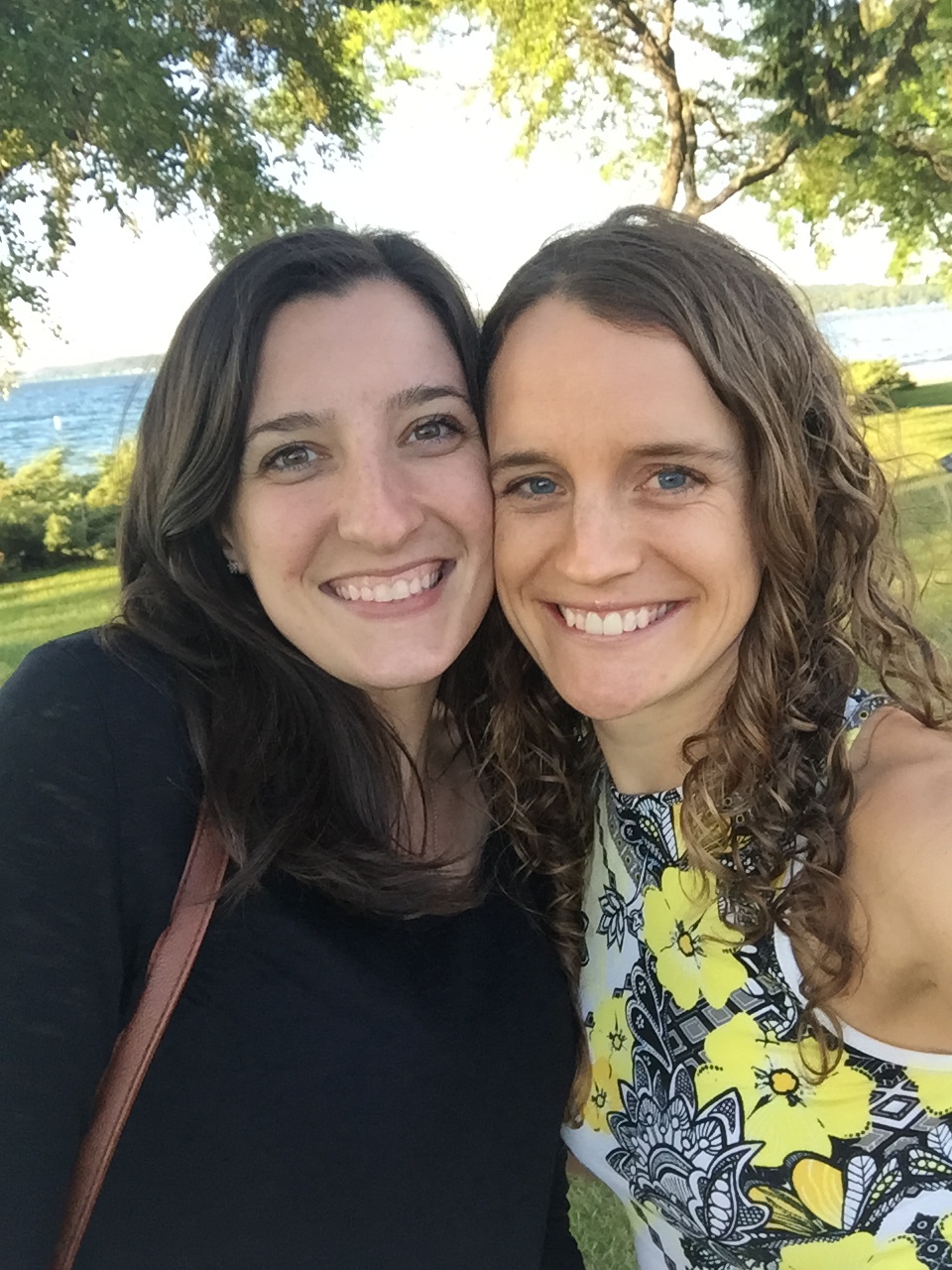 Nanny Jolly celebrated her 99th birthday with all 10 of her children there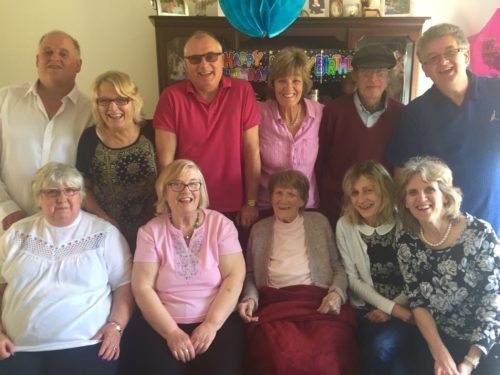 July
July was a busy month for us as I was invited to represent GB&NI again in the European Championships in Amsterdam.
While I was at the airport in LEXINGTON, look who I happened to see!
BRIAN from the Backstreet Boys! This was a LIFETIME highlight, not just a 2016 highlight!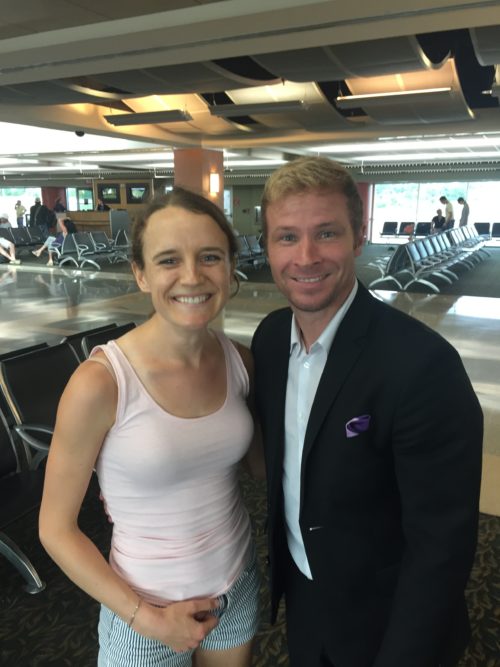 We explored Amsterdam as best we could, while resting my legs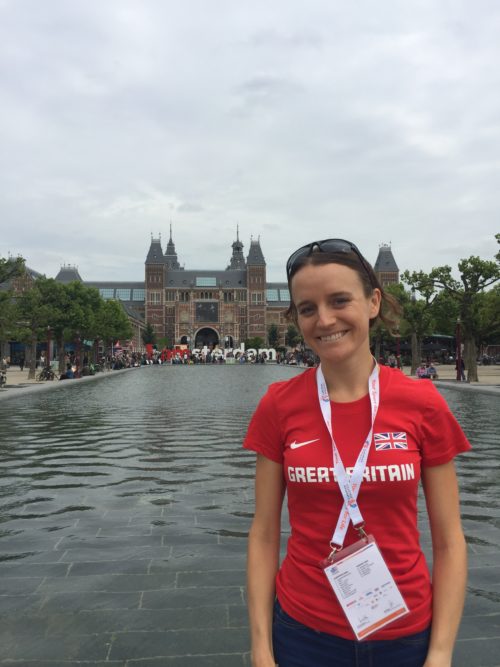 And enjoyed the foods they had to offer of course!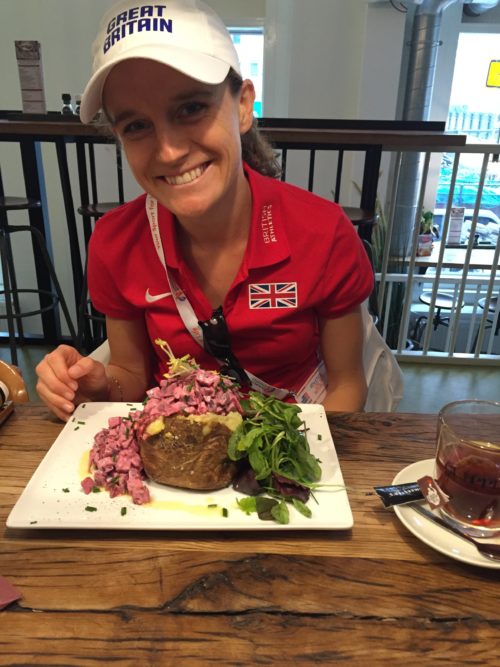 I was fortunate to have one of my very best friends come to watch
My family too!

I also received this from my sister, but was not allowed to say anything
And Steve and I went on vacation to Nashville

After a wonderful month of travel and excitement, my heart was shattered with the passing of my dear Nanny Jolly. At 99 years old, she passed away peacefully in her sleep.
I jumped right on a plane to be at home with my family, that is what matters more than anything to me.
August
Although I was home for a heartbreaking reason, Nanny brought all the family together one last time to celebrate her life (here are some of my cousins)
I ran a race on my birthday, and surprised myself with how fast I ran
Tested out this awesome recovery tool at the Cryo House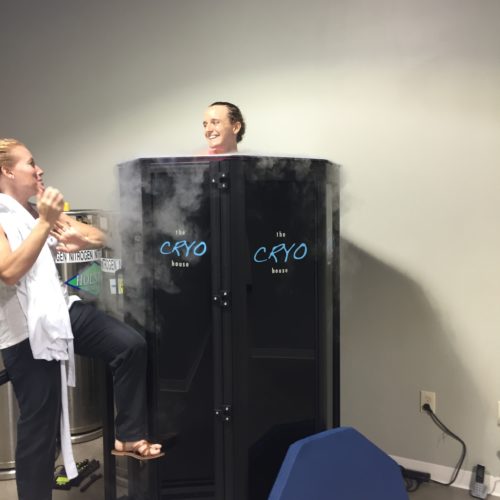 Although my last race was a major fail, the time in Falmouth was fun

As was the time in Rhode Island with my sister-in-law
Once I returned, and counted just how much I had traveled this year, resting and relaxing became the primary focus, as I took another week off running.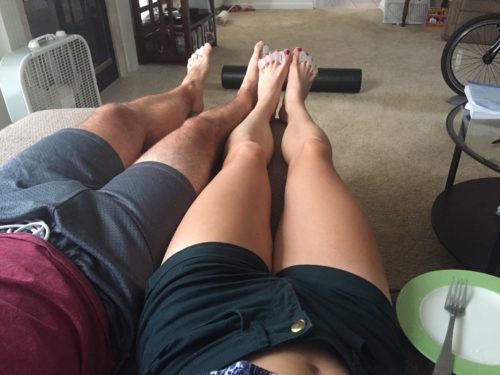 September
Once we took a week off, we took a little time to try to figure out what was next for me, with a less than optimal end to a season, and a lot of burnout after all the travel and emotions (good and bad), we had to figure out what marathon would be best for me.
Drew and I had to start implementing the assisted strength training Max and Todd had recommended at UVA, which actually was a ton of fun
And I finally started to attack my peroneal tendonitis (which was getting worse by the day), by confronting my fear of needles, and seeing Dr Kyle Bowling (it worked a treat in case you are wondering, it is gone after two years of struggle!!)
I also did a mini photoshoot with my Saucony rep, Trey (remember you can still use my coupon code TINA for 10% off at Saucony.com)
October
More travel began again in October as one of my dear friends (Frances) got married in Allentown near Philadelphia.
and then a week later another (Lisa) got married, and I was lucky enough to get a sneak peak before she walked down the aisle
Girls nights officially began in Lexington, which has become a tradition every time the guys are away
I did another photoshoot with Photocylone, and LOVED the results!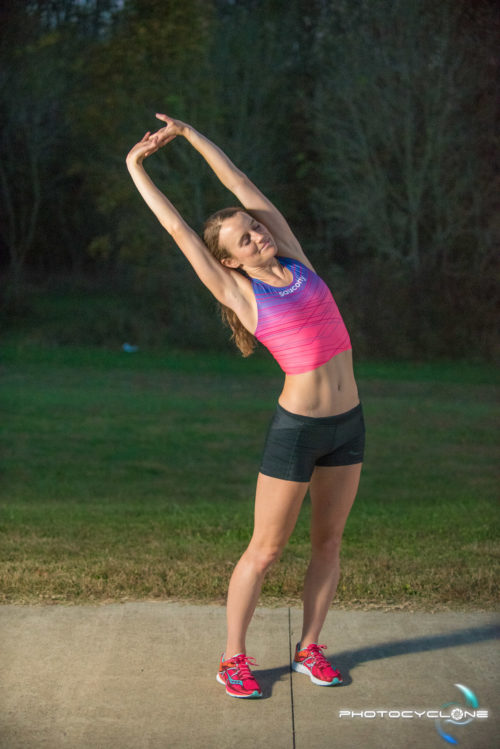 November
Toe gate happened…..downhill running led to my toe swelling up (and toenail eventually falling off). Had to shuffle things, and beg a podiatrist to fit me in before my race that weekend
Thankfully, we got it to calm down in time for the Indy Monumental race, which went better than expected. I refueled with things like this
and spent a few days in Bloomington, Indiana to hang out with old friends.
Steve presented his research project for his masters at a conference (proud wife alert!)
and Sarah helped keep me sane as CIM started to close in
Steve and I went to a University of Kentucky Basketball game and a Cincinnati Bengals game
and I struggled my way through the Thanksgiving day race.
December
After a few more fun moments with friends
Steve and I headed to California to hang out with my long time friend Carlye
and FINALLY get to meet Tawnee
and you know, race a marathon 🙂
A few days after we returned, I hosted my first dinner party with 15 people 🙂
I eavesdropped on my coaches chatting about the next step
and said goodbye to Lexington, as we escaped to Orlando, Florida for a week, while Steve went to a coaches convention
I convinced Steve to go with me to Disney World
From there we went to the opposite side of the US, first spending a few days in Seattle with another bestie, Liz (and her husband, Ben)
Before finishing off the year with Steve's family near Portland, where the graham cracker championship took place, and had a lovely Christmas with Steve's family (not all pictured here).
After a quick trip to Eugene to see Hayward field
a HUGGGEE squeeze from one of my favorite people, Kelli (and her husband Josh)
In a flash, 2017 is over!
This makes it seem way more UP than it actually was, I had a lot of low moments this year too, but isn't it funny that when we reflect, we can mostly only think of the good, but I promise you I did share those bad moments, and you can head over to my honesty section if you don't believe me 😉
What were the highlights of your year?